If you are not using this free service offered by Microsoft, then stop reading and go to SkyDrive and sign in with your Live ID and get started. A whooping 25 GB of free space to put all your stuff at one place, access anytime, and anywhere you want and just in case if you are aware, which I hope you already are, why I am mentioning about skydrive here? So, here is the case…
I uploaded some videos on my blog a few month ago, the files were physically hosted on my blog space and hogging a lot of space. I am now using SkyDrive since it final launch in August 2007 (if I am not wrong) and just gave a quick thought on hotlinking my files from SkyDrive to my blog. There are two big benefits of using SkyDrive for file hosting:
Saves Web Space - In terms of any file you upload to your blog, it now get uploaded to SkyDrive and save your web space
Saves Bandwidth - If you have a video or MP3 file host it on SkyDrive and set the hotlink in the player on your blog. The player just plays the files, just like embedding videos from YouTube or Channel9.
So how can you hotlink files from SkyDrive and use it for your purpose. Go to the folder where you have the file, it can be an image, video or a audio file. You will see something like the below. This is one of my public folder where I have 2 images (funny).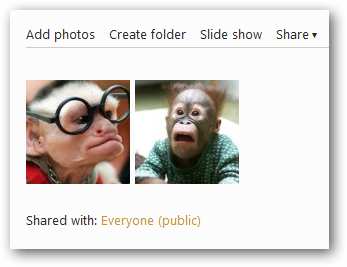 Change the view style from Thumbnail to Details. By default for the folder having images the default view will be Thumbnails.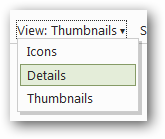 Now hover the mouse to the image you want to embed or hotlink in your blog post or on a webpage. Click More and then right-click Download and select Copy Link Location. This will copy the download link on your clicb board and now you require some manual work on the link.

Open notepad and and paste the copied text. The link look something like this.

http://5mr9iq.bay.livefilestore.com/
y1pn6wH-ZKbNE3AMAGeZry5db0ukIQqy2ksda2ZHtegsxyJeeN1ufTs4AbT
-iyG2DnYpkLUFyPw5OnTpE_t7p_duRJ5wcVOHoC_/edin.jpg?download&psid=1

Just to hotlink the file remove the text starting from '?' till end (remove ?download&psid=1) and that's it, your image hotlink is ready and the final version of link looks like this:

http://5mr9iq.bay.livefilestore.com/y1pn6wH-
ZKbNE3AMAGeZry5db0ukIQqy2ksda2ZHtegsxyJeeN1ufTs4AbT-
iyG2DnYpkLUFyPw5OnTpE_t7p_duRJ5wcVOHoC_/edin.jpg

Below is the same image I have hotlinked from my SkyDrive account.
The same can be done for the videos.
Moreover, if you take a look at the status bar of your IE or the browser you are using you will see that the data transfer is from livefilestore.com and not from yourdomain.com. This saves your bandwidth too!!!

This is not enough, now the question here is how can one upload files to SkyDrive, we can use the web interface provided by the SkyDrive…..!!? But how about using it as a network drive on your My Computer. You can download Gladient Cloud Desktop to map the SkyDrive or any other online service you are using to store your files, like Amazon S3 or Picasaweb to share photos.
UPDATE: Greg Duncan share his experience with SkyDrive with me. I recommend you to read it here.