If you want your website or blog content to be noticed or searched by Microsoft Bing search engine, then you can do this to get your work noticed. But beofre you can do this you need a Live ID a.k.a. Hotmail ID.
Go to http://www.bing.com/webmaster/WebmasterAddSitesPage.aspx

Fill up your web address and sitemap address. Though the sitemap address is optional, but I recommened to give a sitemap as it help the crawlers to crawl all the pages on your website. You can also sign up for a webmaster's e-mail, just in case if Bing encouters somes issues with your website. When you are done click the submit button and you are prompted with a confirmation with an authentication code.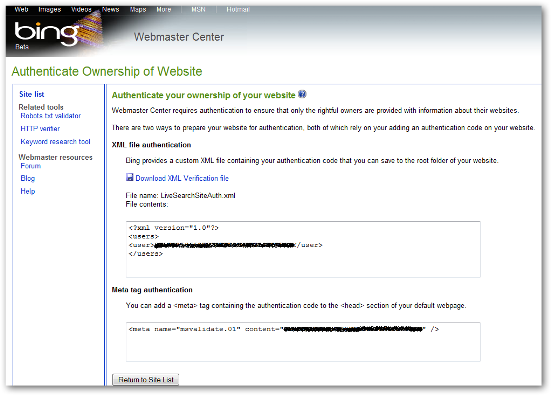 Now when you are done it is time for authentication. When you submit a website to Bing search it asks for an authentication, just to ensure that you are the owner and so provides you with an authentication key which is used to autheticate the ownership in two different ways.
You can have a XML fle with authentication code in the root of your website. Read more instructions on the screen OR
You can add the authentication code within meta tag in your page head section of your default page.
And this is it, your website is submitted on the Bing. Now to check it back click the Return to Site List button to view the site you have submitted. And yes you get it right you can submit a number of sites to Bing. Below is what a Site List look like:

lick on the Web Address, and you will get a detailed list of your website, if Bing crawlers didn't found any problems with your website.
When you get the meta tag in your head section of your website default page or have placed the XML file in the root folder as metioned in the above step, you now need to take a nap for a while and give the search engine crawler a bit of time to crawl you webpage. I actually don't know when to check the site list and other information and whether the crawlers have crawl my website or not, by the way I have checked my website status on Bing after 24 hrs. So after 24 hrs you can also check and this is what you will see. You can see the last crawl date and other information of your website.

So don't wait….leave no opportunity to draw more traffic to your website or blog.